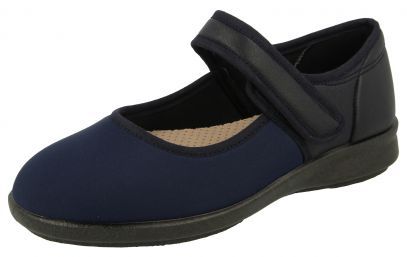 Colour: Navy
Sizes 4 to 9 UK
2V stretchy uppers give the ultimate comfort and can easily accommodate changes in foot shape, with a touch fastening strap.
Key Features:
- The elasticated design of this style expands as the foot swells.
- Flaired heel for increased stability.
- Features a "shoe stiffener" and hard wearing sole making this shoe more supportive than a slipper.
- Removable memory foam sock.
- Machine washable removable insock.
- Perforated removable sock that is breathable, antibacterial and antifungal.
- Removable insoles to allow for increased depth or the insertion of orthotics.
- Round shape toe.
- This style has no seams in the toe box making for an extremely comfortable wear.
- Solid PVC sole can be spliced.
- This style "stretches" to fit the shape of your foot.
- Touch fastening straps allow for easy access and adjustability .